Burlington T&T
All she wants to do these days is bounce and we shouldn't be surprised. As a baby, she cried when we put her in the swing or the Exersaucer, but would squeal with delight-—her chubby little legs springing up and down—as she bounced in her Jolly Jumper. Despite her love of bouncing, we lived in a semi-detached house in Bloor West Village in Toronto, with a postage-stamp sized back yard that could barely accommodate a sandbox, let alone an outdoor trampoline.
But then we moved out of the city and into a house with a larger yard, and lucky for us, our neighbours were getting rid of their trampoline. It was a beast to move—it had to be rolled across the road, and required a lot of muscle and patience to get the springs in place—and we had some initial regrets…until our daughter jumped the first time, and her face lit up the way it had when she was a baby in that Jolly Jumper. That was in the late summer, and soon school was back in session. But every day after school she'd be out there, sometimes with friends, sometimes with her daddy, jumping until it got dark. Even as the weather changed she'd be out there—in mittens and a hat, with her winter coat.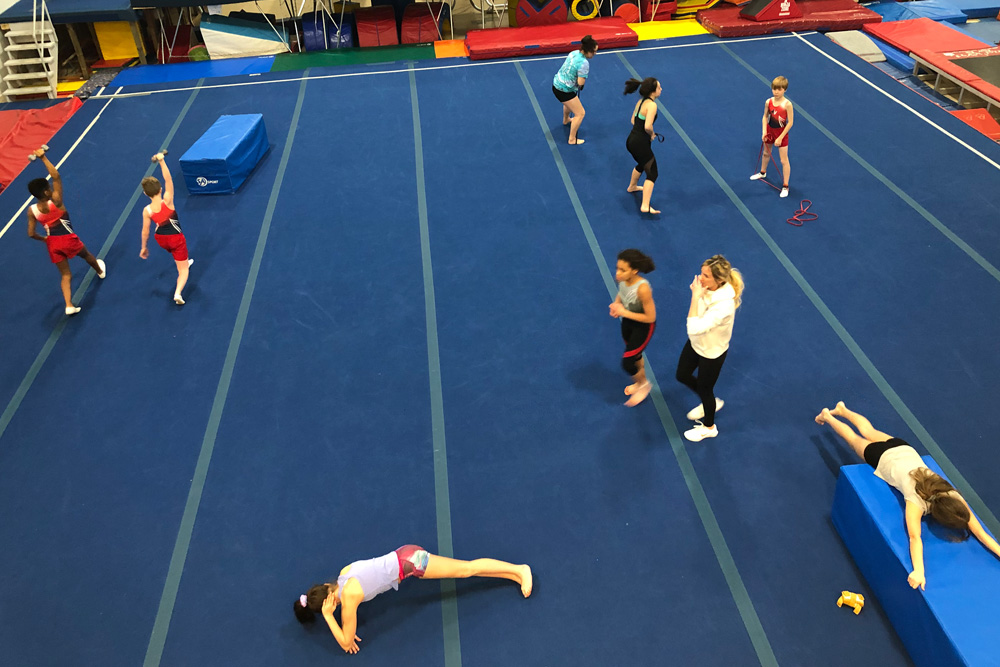 At the same time, we were searching for an activity to build her strength and burn energy and had tried a few sports she enjoyed but nothing had quite stuck. I remembered our neighbour had done trampoline training at a gym called The Burlington T&T and called to find out about their programs. We expected she'd try the recreational program first, but because she'd been jumping (and jumping, and jumping…) for a few months, she had mastered some skills on her own. Like a front tuck. And a back tuck with her Dad's helping hand.
TnT was holding tryouts for their Interclub program, which focuses on developing body coordination, posture and kinesthetic awareness, while also gently introducing athletes to competition. Our daughter was excited and determined to learn what she needed to for a successful tryout, and so we spent another few days on our trampoline as she worked on her skills. Teresa Mikola—the head trampoline and tumbling coach—ran the tryout and was encouraging, enthusiastic and offered the push our daughter needed to attempt skills she was capable of but hesitant to try. Our daughter has been bouncing as an Interclub athlete for six months now and is always excited for trampoline training nights. Along with the skilled, dedicated coaching, the athletes also benefit from conditioning one night a week with a trainer. No question she's a stronger and more confident athlete as a result!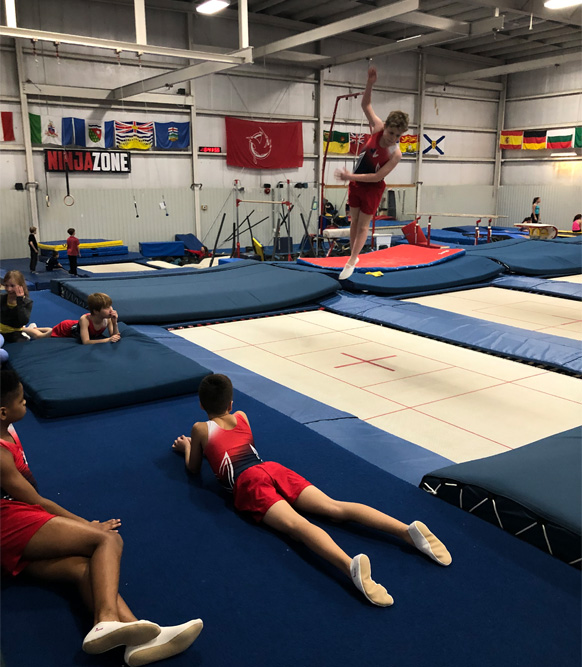 Burlington Trampoline and Tumbling is offering tryouts for next season's Interclub program (which trains 4 hours per week) on Monday, May 27th. "The inter-club program is a great way to get introduced to the competitive sport of trampoline and tumbling without the pressure of competition because our focus is on learning and enjoying the challenge of competition," Mikola says, explaining competition is about more than a medal or ribbon. "We'd like them to meet athletes from other clubs with whom they can progress through their competitive careers, learn from their mistakes as well as their successes, and develop work ethic in reaching their goals."
For more information about TnT's Interclub program (or other trampoline and tumbling programs), please contact the club or stop by to visit the facility.